It is often easier to get excited about Presidential and Congressional races, but here's a reminder of how important local and state governments are:
FLORIDA 2004 STORMS
Charley makes landfall on Florida's west coast
Hurricane Charley
(pictured, left) made landfall as Category 4 (the day after
Tropical Storm Bonnie
), and still had winds over 100 mph when it crossed Orlando.
Hurricane Frances
hit Florida only three weeks after Charley. Drenched Florida with severe rain (over 13" in some areas). Wind damage resulted in near total loss of citrus crops between West Palm Beach and Melbourne. Caused a sinkhole under I-95 in Palm Beach County.
Hurricane Ivan, the storm with its own sequel
Hurricane Ivan
was a Category 4 and caused severe property damage to Panhandle. Then, after crossing the South, regained strength in the Atlantic and came back and hit Florida
again
with severe storms and heavy rain.
Hurricane Jeanne
headed out to the Atlantic after causing massive devastation in Hispaniola. Then,
made a complete loop
and came back and hit Florida, just three weeks after Frances, making landfall just 2 miles from where Frances had struck.
FLORIDA 2004 GOVERNMENT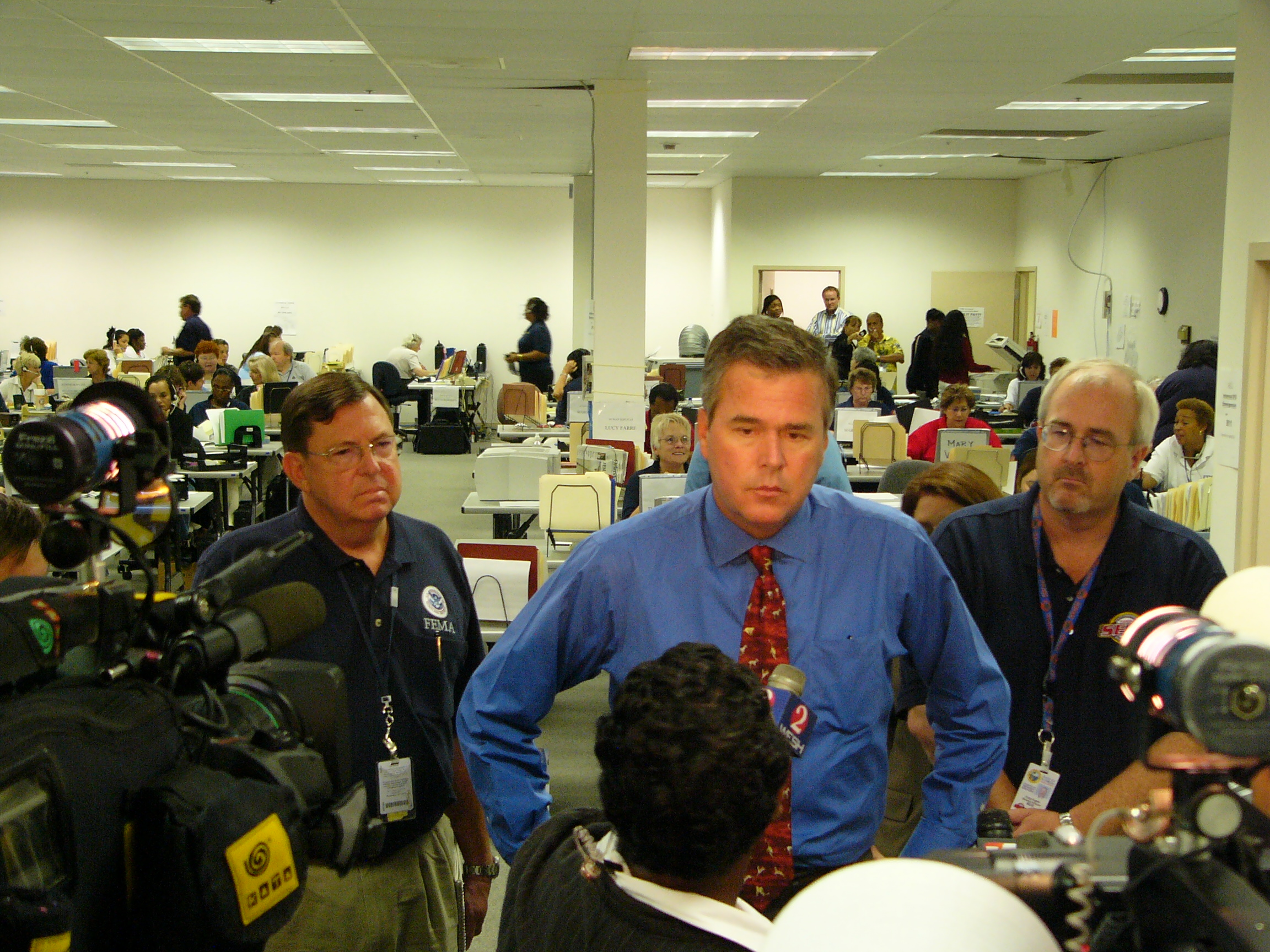 Governor Jeb Bush
Republican
Governor Jeb Bush issued state of emergency declarations. National Hurricane Center, law enforcement and elected officials provided warnings and instructions to Floridians. Constant stream of information provided by government to news media. Millions of residents evacuated, schools and facilities closed. Governor Bush called in National Guard to help with relief efforts ahead of storms' impacts.
FLORIDA 2004 RESULT
It wasn't fun. I know. I lived here. Considering the severity of storms, fatalities were fortunately limited to less than 50. We got through it and rebuilt.
LOUISIANA 2005 STORM
Hurricane Katrina
was a Category 5 monster, slamming into Louisiana. It caused catastrophic failures to the levee system, and severe flooding in New Orleans and neighboring Jefferson and Plaquemines parishes.
LOUISIANA 2005 GOVERNMENT
Flooded bus yard in New Orleans
Democratic
Governor Kathleen Blanco delayed calling for National Guard assistance, and never got around to signing an emergency waiver that would have allowed any licensed driver to transport evacuees on school buses.
Democratic
Mayor of New Orleans Ray Nagin also dragged his feet, waiting until the day before the storm hit to issue an evacuation order. Tens of thousands of people who were unable to leave town were sheltered in the Louisiana Superdome and New Orleans Convention Center.
LOUISIANA 2005 RESULT
Over 1,800 confirmed dead. Epidemic looting and violent crimes for weeks. Inhumane and violent conditions (rampant drug use, rapes, murders, assaults, filthy living conditions) within the Superdome and Convention Center for nearly a week.
WASHINGTON D.C. 2011 STORM
Hurricane Irene
, currently a Category 3 that may strengthen to a 4, heading toward the City.
WASHINGTON D.C. 2011 GOVERNMENT
Democratic Mayor, Vincent Gray
.
Chairman of City Council and 11 of the 13 members are Democrats
(2 independents).
WASHINGTON D.C. 2011 RESULT?
Note: I'm not saying everything went perfectly in Florida or there weren't problems at the federal level in Louisiana. But the fact remains that a large portion of storm preparation and management lies within the power of local and state governments.