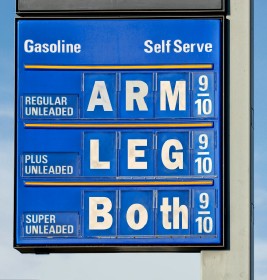 President Barack Obama, Senator Bill Nelson, and many of their Democratic colleagues are making a terrifying habit of being enemies of any efforts to make America energy independent. Considering the economic and national security implications of their actions, I would hope they could see past their party's rhetoric and put America first, but I see little hope of that happening.
All Americans are feeling the pain at the pump, but Senator Nelson recently Senators Harry Reid and Max Baucus were both recently quoted as saying that gas prices "weren't the issue." And of course, there's Obama's infamous statement during the campaign that under his plan, energy prices "would necessarily skyrocket."
The folks at
RightChange
put together this humorous little video about the Obama administration's preference to lecture us rather than actually take steps to solve the problem:
Gassing Up with Obama
from
RightChange
on
Vimeo
.
As mentioned in the RightChange video above, the Obama Administration has unnecessarily shut down a large portion of our domestic oil wells, as well as continuing to refuse to drill in ANWR or explore other potential sources of domestic energy. The Democrats in Congress have also rejected many opportunities to do the right thing. Sadly - and predictably - Senator Bill Nelson just voted in favor of raising taxes on American energy companies, and followed that vote by rejecting the opportunity to increase domestic energy production.
Senate candidate
Adam Hasner
released the following statement today
in response to Senator Nelson's votes:
FOR IMMEDIATE RELEASE

May 18, 2011

Contact: Rick Wilson

850-284-6284
Adam Hasner Comments On Senator Bill Nelson's Votes Against American Energy Independence
Ocala, FL

- While campaigning in Ocala, Florida today, Adam Hasner released the following statement in response to Senator Bill Nelson's vote to increase taxes on domestic producers of energy, and his vote against increased domestic energy production.

"With gas prices climbing and continued instability in the Middle East, it is difficult to comprehend why Senator Bill Nelson would vote to raise taxes on energy producers one day, then vote against expanded domestic energy production the next. Today's bill to expand domestic energy production wasn't perfect, and I would push for a bill that goes farther to expand energy exploration and production in America. But the fact that Senator Nelson had no problem voting for increased energy taxes at a time when Floridians are paying some of the highest gas prices in the country makes no sense.

"Encouraging increased domestic production of energy should be a part of an overall strategy to create more economic prosperity and security in America. The more energy we create at home, the less we have to pay for it from other countries, the more Americans we employ in an industry that helps drive America's economy. American energy independence is also a national security issue. The more energy we produce here at home, the less hard-earned American money will be sent overseas to hostile nations who don't share our values or our best interests. Florida needs a Senator that will fight for American energy independence, not election year gimmicks that will do nothing to lower the price of gas."



Working to make American more energy independent is number 5 on

Adam's pledge

to Floridians.





###
Copyright (C) 2011 Adam Hasner for US Senate

All rights reserved.