Congress is awesome! Why do
you think I stayed for 20 years?
Getting elected to Congress brings a lot of really cool perks. Besides having people address you as Representative and getting to shape the future of our country, there's the salary, excellent health insurance, multi-million dollar international vacations...
Wait, what? Multi-million dollar international vacations?
Sounds crazy, right? Well, unfortunately for the American taxpayer, it's all too true when it comes to Florida Congressman John Mica.
The issue is "CODELS," or "Congressional delegations," the so-called "fact-finding missions" that members of Congress get to take on the taxpayer dime. Since he was first elected to Congress in 1993, Mica has taken advantage of this fabulous little perk over a hundred times, sticking us with a bill in excess of four million dollars.
That can't be right, can it? Four million dollars? That's enough to pay four ransoms to
Dr. Evil
!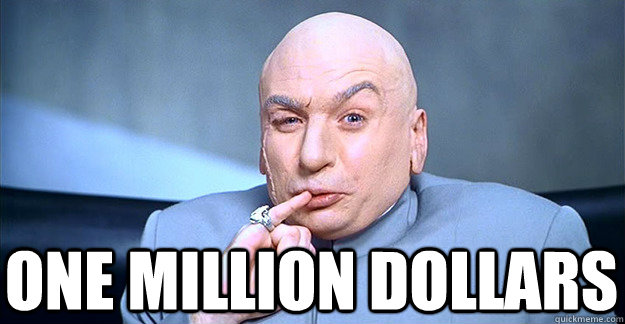 Still awaiting bids for the sharks with laser beams on their heads.
In fact, the true figure might actually be
higher
than that! P
ublicly available records disclose when a member of Congress takes one of these trips and what countries they visit. Unfortunately for advocates of transparency in government, the public records have a lot of blank spots: forget getting a detailed breakdown, and some expenses, such as when the CODELS include travel on Air Force planes, aren't included at all.
I've obtained a spreadsheet prepared by the Sandy Adams campaign, which I've linked as a Google document here (if anyone has trouble opening it, email me at sarahrumpf at gmail dot com and I can send you a copy) that lists all the CODELS taken by Mica while he has been in Congress. Again, because the public records omit some details, some figures had to be estimated. Here is how they filled in the blanks:
The Air Force planes involved would have typically been either G-5s, 737s, or 757s. The 757s are the most expensive option, but assuming Mica traveled on either G-5s or 737s, those planes cost $5,700 for every hour in the air. Any trip taken on a 757 would cost more than the estimate used by the Adams campaign.

The campaign researched the time needed to travel the distance for each of the publicly reported trips, and then multiplied that by $5,700.

The Air Force planes also incur costs while they are grounded, sitting on the tarmac, awaiting to take off, loading and unloading, etc. These costs were difficult to estimate as accurately as direct travel costs from the planes, so they were omitted.

Whenever hotel expenses were not disclosed, an estimated cost of $300/night was used, based on average per night costs for hotels known to have been used.

If Mica's wife or other family members traveled with him on any of these trips, there would be additional expenses. The campaign only calculated expenses based on Mica traveling alone.
Essentially, whenever it was necessary to fill in the blanks, Mica was given the benefit of the doubt and a lower figure was used in the calculations.
Total estimated travel expenses for CODELS taken by Mica:
1995-1996:
$310,302
1997-1998:
$
598,188
1999-2000:
$747,496
2001-2002:
$723,291
2003-2004:
$651,156
2005-2006:
$259,700
2007-2008:
$439,373
2009-2010:
$0
2011-2012:
$307,716
TOTAL: $4,037,222
There are a number of little gems in the data (again, link to spreadsheet for your own review is here), including a remarkable ten trips to Italy. What, exactly, sort of "fact-finding" does the Transportation Committee Chairman need to do in Italy? Italian trains are notoriously bad at keeping schedules, so let's just hope Mica's not getting tips for SunRail!
I honestly hope that these figures are wrong, that the calculations are incorrect, every single one of these trips served a vital national security or public interest purpose, instead of taxpayers spending millions of dollars to send Mica on nearly two decades of luxurious travel.
I invite the Mica campaign to respond with any corrections and I will happily post them. Please, please, please prove me wrong!
However, the more I review this data and the more research I do, the more I am convinced that not only does this $4 million figure have merit, but that if there is any flaw in the data, it's that the number is likely significantly lower than reality.
The Wall Street Journal conducted a detailed study of CODELS and the costs to taxpayers a few years ago, in 2009, in which they described several of these trips, the posh lodgings and meals enjoyed by the members of Congress and their families, the time taken for personal vacation pursuits, the fact that many members skipped half of a conference that they had flown to Europe to attend, and a laundry list of sins that leaves the reader with a strong impression that this trip is not quite "essential," never mind if any actual "fact-finding" occurred!
Central Floridians Struggle While Mica Travels the World at Their Expense
Orlando, FL – Over the past 20 years, career politician John Mica has been living it up on the taxpayer dime, traveling the world to countries like Malaysia, Italy and France. According to conservative estimates, his international travels have cost hard-working taxpayers over $4 million. As Mica continues to run from his big-spending record of earmarks and government excess, how can he justify spending millions of dollars jet setting at the taxpayer's expense?
"John Mica's decision to put his international travel bucket list ahead of Central Florida taxpayers is appalling," said spokeswoman Lisa Boothe. "While Mica has been attempting to pull the wool over voters' eyes by denying his long history of runaway spending and record-setting earmarks, his 20 years in Congress tell a different story. On top of adding $10 trillion to our nation's debt and requesting $4 billion in earmarks, Mica has been earning frequent flyer miles on the backs of hard-working Americans. At a time when Central Florida families and small businesses are struggling to pay their bills, how can Mica justify jet setting on their dime to some of the world's most popular international travel destinations?"
Central Floridians deserve to know the following:
1) How can Mica justify his international jet setting at the taxpayer's expense?
2) Did Mica travel with any family members on the taxpayer's dime? If so, to which destinations and what were the associated costs?
4) Was it really necessary to visit Italy 10 times?
5) Because public disclosures are limited on these international junkets, what was the true cost to Central Floridians?
###
As I said earlier, I hope these numbers are wrong, and there is an open invitation to the Mica campaign to submit any documents they have that contradict or clarify this data. Otherwise, we're left with yet another elected official spitting out soundbites about being a "fiscal conservative fighter" as they try to survive reelection, but living their life much, much differently.
Anger over wasteful government spending was the fuel that fed the tea party fire in the 2010 elections. As we approach $16 trillion in debt, can future generations of Americans afford John Mica?
See also: