I voted for Mitt Romney last week during early voting. To be completely honest, if you had told me that I would vote for Romney last year, I would have laughed at you. It took me a long time to make that decision, and I did not make the decision lightly.
I also spent some time debating about how publicly I was willing to discuss my vote. Considering that one of the major services I provide for my political clients is paying attention to what teh internets are saying, I'm well aware that Romney is not popular in certain circles. However, there are a number of points I'd like to share.
If you haven't voted yet and this helps you make up your mind, wonderful. If you disagree with me and support a different candidate, that's also wonderful. Gotta love living in a free country!
Anyway, here's a few of the issues that factored into my vote...
I want to make Barack Obama a full-time golfer. It starts and ends there with me. The number one goal is to make Obama a one-term president. Mitt Romney, Newt Gingrich, and Rick Santorum would all be much better presidents than the current officeholder.
Unicorns aren't real.
I completely understand the disappointment that many share that [insert favorite candidate here] didn't run. I wanted Mitch Daniels to run, but he never entered, loved Tim Pawlenty but he dropped out before the game had hardly begun, was impressed with Rick Perry when he entered the race but....sigh.
Herman Cain seemed exciting at first, but ran a terrible campaign
that I'm honestly surprised survived as long as it did.
I did a lot of reading, went to events, and called up people I knew who were supporting certain candidates to hear their thoughts. (For those of you who were kind enough to share your thoughts with me, I greatly appreciate it. Even if I did not end up supporting your candidate,
I respect your choice
.)
I spent more time researching, analyzing, and debating these candidates than in any election before in my lifetime. That's why I can't help but laugh at some of the comments on Twitter and elsewhere
calling me a "sellout."
This is already shaping up to be a long post so I won't go step by step through every element of Romney's record, but considering he was dealing with an 85% Democratic legislature in a bluer-than-blue state, he did a remarkable job. Go look up for yourself the spending and tax cuts he made and the work he did to balance Massachusetts' budget.
There is a lot to be said about the value of executive experience.
That is a large part of why I was hopeful that Daniels, Pawlenty, or Perry would succeed - there is an intensely worthwhile education that comes from having to make the day-to-day decisions to run a state or large business enterprise, and Romney has done both. Add in his incredible work with the Salt Lake City Olympic games, and this is a man who truly understands how to solve complex problems, find efficiencies, and manage people and projects. I have no doubt in my mind that he is ready to hit the ground running as President.
I'm not going to defend Romneycare. I hate it. Hate, hate, hate. Just remember that Romney was dealing with an overwhelmingly Democratic legislature who were determined to push it through and it was a very popular with people in Massachusetts. His choices were to roll over and play dead, or engage in the process and try to incorporate some conservative principles into the bill. (Remember the squabbling during the debates - Romney really did draw ideas from the Heritage Foundation, not exactly a liberal institution.)
On the issue of Romney allegedly appointing "liberal pro-choice" judges, people are missing the point about the different roles judges play. The vast majority don't rule on abortion cases. Governors make most of these appointments for judges to handle criminal cases and minor civil matters. So, a judge might be a registered Democratic voter (completely understandable in Massachusetts) and profess to be pro-choice, but actually be very conservative and tough on crime. (There's apparently one Romney appointee who is so hard-nosed that the local criminal defense bar has nicknamed him "The Hammer" - not exactly a "liberal" judge!)
Now, regarding the life issue, this is something that is personally very important to me, and both Romney and Gingrich have been all over the place in what they've said. But talk is cheap. I went and looked at what actions they actually took, and I am completely comfortable with my support for Romney. When it came time to take action to protect life, Romney did the right thing. He vetoed an embryonic stem cell research bill that had heavy support in that Democrat-run legislature and was very popular in his state. In contrast, Gingrich has shifted his definition of when life begins to "after implantation," which allows for the destruction of embryonic stem cells in research, and he has even fought for federal funding of that kind of research.
Here's more information about Romney's pro-life record from former Ambassador and pro-life advocate Mary Ann Glendon:
Glendon makes an excellent point: isn't the goal of the pro-life movement to change hearts and minds? Isn't it a wonderful thing that Romney, who made numerous pro-choice statements during his campaign, was able to change his mind in time to make the right decisions as Governor? Is that flip-flopping or reforming?
Electability matters. I don't evaluate the dreaded "electability" word the way that many on our side do. I do not believe that it only applies to moderates (although that was certainly how the word was used to argue for John McCain's candidacy). Exhibit A for me is and always will be Marco Rubio. Charlie Crist was supposed to be more electable because he was more moderate, but the voters didn't trust him. Rubio ran as an unapologetic conservative, and ended up getting almost half of the votes in a bitterly fought three way primary.
The answer, in my opinion, is that electability lies in not necessarily moderating a candidate's positions or values, but in being conscious and strategic about how those positions and values translate to the general voting population. Ronald Reagan, and Rubio after him, both won their elections not by abandoning their principles, but by presenting a positive argument that drew new people to support them.
In my opinion, Romney is more "electable" than Gingrich because his messaging style is far more likely to get independents, moderates, and conservative Democrats to listen to our ideas. Gingrich is excellent at getting grassroots conservatives fired up, and trust me, I share the angst - if not outright anger - that many of you are feeling. There is a shared joy in watching Newt lick his chops after chewing some debate moderator to bits.
But I'll say it - life ain't fair - and Gingrich's unfavorables among independents and Democrats are so dangerously high so as to present a nearly insurmountable hurdle for him in the general election. Remember, Americans already know Newt Gingrich. He's been on the front pages of newspapers since I was in high school. Public opinion of him is not likely to drastically change.
Romney Central Florida Field Director Pablo Pantoja
and Ann Romney's brother Rod Davies
I'll turn next to another loaded phrase: "presidential temperment." There is an incredibly long list of people who are friends with Romney or who have worked with him, and speak extremely highly of him, talking about how great his judgment is, how brilliant he is at solving complicated problems, what a great businessman he is, but also how warm, and kindhearted he is.
Ann Romney's brother Rod Davies was in town this week and stopped in a pizza restaurant near my parents' house. We went by and enjoyed hearing stories from a man who has known Romney since they were all children. It was a great informal gathering, and Mr. Davies shared a number of stories with us, about what the Romney's courtship, marriage, and family life has been like (talk about your inspirational American story), and more details about Romney's business background (how he refused to take any money from his father, the work he did at the Olympics, some of the Bain Capital successes that are getting lost in the the press, etc.).
Contrast that with Gingrich; the picture is far more muddied. Everyone agrees he's the "smartest guy in the room," and I will be the first to say that Washington needs to be shaken up, but I am not convinced that Gingrich's bull in a china shop methods are the right way to go.
I would like to go ahead and point out that the circumstances around the ethics charges against Gingrich are being distorted
(
Byron York has an excellent article at the Washington Examiner
),
but one of the main issues is being missed by both sides.
Yes, the ethics charges don't seem that serious when you look into them, but the bigger problem was Gingrich's relationship with his colleagues in Congress. One expects partisan infighting, but
Gingrich's leadership style as Speaker of the House had been so combative, chaotic, and volatile, that his own party had lost faith in him.
Those ethics charges would never have gone as far as they did if his own fellow Republicans hadn't turned their backs on him.
Go look up for yourself what Gingrich's contemporaries said about him. This goes far beyond disagreements over budget cuts or policies; this was a erosion of faith in his leadership. Some of the reasons underlying Obama's shortcomings are his inability to work with even members of his own party in Congress to get things done. I fear Gingrich would face similar troubles.
Both Gingrich supporters and opponents point to his overwhelming number of ideas, but this is a double edged sword. Someone described it to me like this, "Gingrich has ten ideas all at once. Five of them will be ok, three of them will be fantastic, but at least two of them will have the potential to instantly bring about the end of the world."
I can't help but agree with this assessment. I love the idea he presented in an early debate about having people who are collecting unemployment have to attend vocational education classes. Wonderful! Then the taxpayers are reassured that their money is not just being sent to someone sitting on a couch, and best of all, the person who lost their job has an opportunity to learn new skills and better themselves. That's a win-win in my book.
But then there was his idea about hauling judges before Congress and making them testify about their rulings. As an attorney, I feel this would undermine our justice system and strongly oppose it. Think about it this way: would you want Obama to have this power over Justice Alito? I didn't think so. And don't get me started on the moon colony silliness.
Then there's what I call my "worst case scenario" method of decision making. You don't insure your house for a broken window. You insure for the chance it burns to the ground. So, let's play a game and do that with the presidential candidates. Let's, for argument's sake, assume that the worst that is said about both Romney and Gingrich is true.
So, if we assume the worst that's said about Romney: he's a moderate and he just wants to be reelected. Well, if we send Romney to Washington with a conservative House and Senate, he will have to play along if he wants a second term as President. And look back at the 1990s: Bill Clinton, a moderate Democrat president, plus a conservative Congress brought us a balanced budget and welfare reform. That wasn't terrible. Let's be realistic - if Congress sends Romney an Obamacare repeal bill, is he really going to veto it? I think not.

[Note: I realize I'm assuming we will keep the House and win back the Senate. In my opinion, doing those two things is actually more important than winning the White House, but that's a post for another day...]
Regarding Gingrich, the worst that is said about him...well, that's a longer list, even if you exclude all former Mrs. Gingriches. He's temperamental, quick to judge, easily agitated, and not known for playing well with others. There is also a deep running dislike for organization and discipline that I feel handicaps him. Exhibit A: the Virginia ballot. Exhibit B: his slow start setting up a ground game in many of the crucial early primary states, including Florida. Over 600,000 Floridians voted before today, either through an absentee ballot or by early voting. How many of those voters did Gingrich have the time or resources to contact? This lack of discipline could be catastrophic against the Obama Billion Dollar Campaign Machine.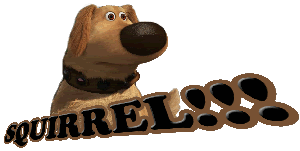 Also I can't help but think that Gingrich reminds me of
the dog from the movie Up
that would be in the middle of a sentence and then - "SQUIRREL!" - he would get distracted. As someone who has some mild ADD tendencies myself,
I see very serious warning signs in the way that Gingrich has run his life and I do have serious doubts that he does have the proper temperment to be president.
I've observed Gingrich several times in speeches, telephone town halls, and forums listen to someone suggest an idea and then immediately seem very invested in chasing after it. Not all ideas are good, and even the good ones sometimes ought to be weighed carefully before doing them.
Mom and I in front of "Florida is
Romney Country" banner
On the matter of temperment, I will admit that I have been concerned watching Romney "play it safe" in many of the debates last year. He seemed, at times, to be on auto-pilot. However, the campaign got a much-needed reboot as they arrived in the Sunshine State, and I could not have been more thrilled to see it.
I attended several Romney events across the state this month, in Ormond Beach, Jacksonville, Orlando, and finally The Villages last night. Each time I've enjoyed seeing a larger-than-expected crowd, full of energy and enthusiasm, but far more importantly, I've seen an energetic and enthusiastic Mitt Romney.
Romney genuinely enjoys meeting people and after every single one of these events, he has taken some time to go along the crowd, shake hands, sign autographs, take photos, etc., all with a broad smile on his face and a bounce in his step. Campaigning for president is a wretched, stressful endeavor, and it requires someone who really, truly has his heart 100% in it. Romney does.
And don't forget Romney's debate performances last week. Gone was "auto-pilot Romney;" he was replaced with a Golden Gloves fighter, ready to jump into any ring to face his opponent. I couldn't help but think "FINALLY!" in my head. OK, this guy, this guy here tonight, looks and sounds like he is ready to go mano-a-mano with the president and give him the fight of his life.


Romney giving spirited, energetic speech. I'm telling y'all, he's solar powered. A week in the
#SunshineState
has been good for him
#sayfie
I've cracked the joke a few times that Romney seems to be "solar powered," but whether it's a new campaign strategy or the time in the Sunshine State has been good for him, Romney seems to be hitting his groove as a candidate. This has been a long, convoluted, stressful process, and I know that many of my readers will be disappointed if Romney is the nominee. Many of you may be disappointed that I decided to back him.
I hope that all of you can see this silver lining: no matter which candidate you support, or even if your favorite candidate never ran or dropped out, this brutal primary process has already accomplished two important things: (1) it has confirmed Romney's support of a number of conservative positions, and (2) toughened him up and made him a better campaigner and fighter. Regardless of whether Romney is your candidate or not, it is highly likely that he will be our Republican nominee, and I think we can all find something positive in these developments.
For my fellow Floridians,
go vote
if you haven't already. Everyone, I look forward to your thoughts.
Thank you and God Bless this great country.
UPDATE: Here's some video from a rally last Friday in Orlando (3 parts):