One of my favorite experiences of CPAC was attending the "
BlogBash
" on Thursday night and seeing
the world premiere of the trailer
for the new
Atlas Shrugged movie
.
Official movie poster. The movie premieres on April 15th, an appropriate date!
I've loved Ayn Rand's book for a long time, and often said that it should be required reading for elected officials. (
Apparently FreedomWorks agrees with me, but Congressman Keith Ellison does not.
) It has puzzled me that no one had adapted this great book to film before now, but I can see how it might be challenging, especially today.
In 1949, Hollywood managed to get Ayn Rand right, with the film version of
The Fountainhead
. However, Rand herself wrote the screenplay, King Vidor was the director, and Gary Cooper and Patricia Neal excelled in the starring roles. I highly recommend adding it to your Netflix queue or catching it the next time it's shown on Turner Classic Movies.
Atlas Shrugged is admittedly a denser and more complicated book than The Fountainhead. It's Rand's longest book and the last one she published, with, let's face it, a theme that is a bit more complicated than the standard "boy meets girl" schlock that Hollywood is accustomed to producing now. Without Rand to guide the screenwriting and production, I honestly did not have very high expectations for this new movie.
Well, my pessimism was misplaced. The people responsible for bringing this film to the big screen have created a wonderful, amazing, and powerful work. This is a top-quality, lush, visually-stunning production. Judge for yourself, and view the trailer here:
YouTube| AtlasShruggedPart1 | Atlas Shrugged Trailer
We were also shown a few selected scenes from the movie. The actors appear very well suited for their roles, even the minor characters...I was a huge fan of the TV show Friends and the casting of Christina Pickles (she played Ross and Rachel's mother) as Mother Rearden, was spot-on. I have to admit getting slight chills upon hearing certain lines brought to life ("Who is John Galt?") and seeing Dagny Taggart wearing a bracelet of Rearden metal.
The movie is currently planned to be a trilogy. Part 1 premieres on April 15th, 2011.
For more information about the Atlas Shrugged Movie: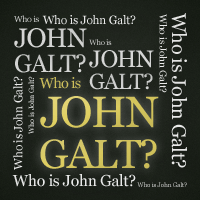 Official Movie Website
Atlas Shrugged Movie on Facebook
@_AtlasShrugged on Twitter
Atlas Shrugged Part 1 YouTube Channel