Running for Senate or just running his mouth?
OK,
someone
ain't telling the truth here...
Last week I posted a story about a story in
The Hill
about the NRSC apparently encouraging Joe Scarborough (pictured, left) to enter the Republican primary for the Florida Senate seat:
Sunshine State Sarah | The NRSC: Boldly Pretending 2010 Didn't Happen
Later on Friday, after the original article was published,
Scarborough confirmed that NRSC Chairman John Cornyn had reached out to him
:
John suggested last month that I consider running for the Senate against Bill Nelson. His intent was clear and unambiguous and echoed his quotes in The Hill. However, I love the job I have and have no intention of running for the Senate.
Scarborough for Senate? Just kidding!
Curiously, Cornyn (pictured, left) immediately and emphatically denied the story, claiming that he had not talked to Scarborough about running for Senate in Florida, but rather in New York, where he currently lives. Both
Cornyn
and the
NRSC
posted links to The Hill article and the following comments on their official Twitter accounts:
@NRSC - THE NRSC is not courting Joe Scarborough for #FLSEN. The story is not true. http://j.mp/ey22AW

@JohnCornyn - Rumor control: Last cycle, Joe and I talked about his interest in NY, not FL Senate race, so this story is wrong.... http://fb.me/txwcxXh6
Burning bridges?
But wait, we're not done on this merry-go-round.
Friday afternoon, NRSC Executive Director Rob Jesmer (pictured, left) released this statement:
In his past conversations with Senator Cornyn, Joe Scarborough had expressed an interest in perhaps running for a U.S. Senate seat in New York. To quote Joe's own words today, his intent was 'clear and unambiguous' and we took him at his word that his interest was, and is, in New York. So not only did Senator Cornyn not ask him to run for the Senate in Florida, but for a number of reasons it stretches the bounds of credulity to even see why he would be considered a strong, viable candidate in Florida this cycle. There are already a number of far stronger candidates looking at the Florida Senate race and we are confident that any one of them can beat Bill Nelson in 2012. But we wish Joe the best of luck in his New York Senate pursuits and we remain fans of his cable show.
Oh, snap! Jesmer doesn't stop at calling Scarborough a liar, he takes it a step further and says he'd be a lousy candidate. A liar
and
a loser? The sarcasm just drips from Jesmer's words. Sounds to me like
even if
the NRSC had an interest in Scarborough, they are dropping matches and a gasoline can on that bridge now.
Of course, Scarborough had a response:
This morning I read that John Cornyn was going to ask me to run for Senate 'for the third time.' There is no need. I have no interest in such a campaign. Judging from the NRSC's bizarre behavior today, his comments obviously upset potential Florida candidates. I too would have preferred that he said nothing about his efforts to have me run for the Senate. I have no desire being part of this story and once again let me state that I have no interest in running for the US Senate.
"Bizarre behavior?" Yeah, you can say that again. And it wasn't just "potential Florida candidates" who were upset. Florida Republican primary voters were pretty incensed, too. My Twitter feed blew up with shock and indignation as this story spread.
I did not see a single person
in favor of Scarborough as a Senate candidate in Florida.
A follow-up article in The Hill noted:
Some on the right were infuriated that Cornyn backed centrist Republicans in the last cycle, including then-Florida Gov. Charlie Crist (R) in the GOP primary. After Republican Marco Rubio overtook Crist in the polls, Crist left the GOP to mount an independent bid. Rubio subsequently defeated both Crist and then-Rep. Kendrick Meek (D-Fla.) in the general election.

Cornyn this year said he learned some lessons last year, adding that the NRSC would be taking a more a hands-off approach in primaries during the 2012 cycle.
Not to be left out,
Politico weighed in
, noting that "[t]he idea of a Scarborough campaign in Florida next year seems far-fetched," noting that while Scarborough had previously represented Florida in Congress, he had left office over a decade ago, resigning during his fourth term.
Politico correctly zeros in on the heart of the story, the issue of meddling by the NRSC:
For the NRSC, any appearance of meddling in a contested primary could carry a serious political price. It was just last cycle that the committee touched off a backlash among grassroots conservatives by endorsing then-Gov. Charlie Crist for Senate in Florida over Marco Rubio, who ultimately won the seat.
A throng of Republican candidates are circling the race against Nelson. One, state Senate President Mike Haridopolos, has already announced he will run.
So let me get this straight. Scarborough says Cornyn asked him about running for Senate in Florida. Cornyn says he didn't, and the NRSC executive director adds insult to injury and says Scarborough couldn't win anyway. Scarborough says he
is
telling the truth...and around and around we go...
Well, they can't all be telling the truth.
So whose pants are on fire?
If Scarborough is the liar, what's his motivation?
There was no story until he gave the information to The Hill. Was he actually considering running for office again? Was he annoyed his name was being omitted from articles about the Florida Senate race? Or did he just want the ego boost from being mentioned as a potential candidate?
Well, say what you want about Scarborough, but he's not a complete idiot. He must have known that giving such specific details,
especially quoting Cornyn
, would lead the reporters to follow up with Cornyn and the NRSC. If he was thinking about running for office, getting caught in a lie in the first article about his candidacy would be disastrous. Likewise, if he just wanted to feed his ego, this wouldn't be the way to go.
if Scarborough wanted to make up a story, all he would have had to do is to just say that "many supporters," "other Republican elected officials," or maybe even "unnamed friends at the NRSC" had approached him and encouraged him to run. That would have sparked the story but been darn near impossible to fact check.
Well, I obviously cannot be certain, but
in my opinion, the more likely scenario is that Scarborough is telling the truth, and Cornyn did encourage him to run for Senate in Florida.
The hyperactive denials from the NRSC and Cornyn appear to be a panicked response as they attempted to save face after an intense backlash to what looked like yet another example of the NRSC's bumbling, annoying, meddling.
I sincerely hope the NRSC realizes that meddling in primaries does not work, period.
It does not help the NRSC fundraise, it does not help get Republicans elected, all it does is destroy any hope of party unity.
The credibility of the Republican Party brand name is still in critical condition. There's a reason that donating directly to candidates instead of the party remains such a popular idea. In 2010, the NRSC's support of Crist over Rubio led to efforts like Robert Stacy McCain's "
Not One Red Cent
" campaign, and
a similar Facebook group started by RedState's Erick Erickson
. This latest kerfuffle with Joe Scarborough does little to convince anyone they learned their lesson.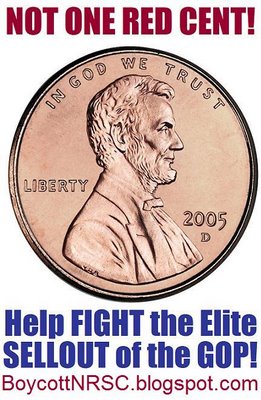 Will this campaign get revived this year, or has the NRSC learned its lesson?